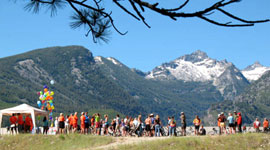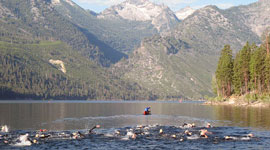 A challenging XTerra style race: Open Water Swim (0.9 mi), Mountain Bike (12.6 mi), & Trail Run (7.7 mi)
News Alert Updated: Due to the continuing health risks and challenges around the COVID-19 virus we are cancelling the Lake Como Triathlon for this year and will schedule the 2021 Triathlong for Saturday July 24th..
The Lake Como Triathlon is held on National Forest Service Land at Lake Como in the heart of the Bitterroot Valley just south of Hamilton Montana.
The open water swim starts approx 0800 at the public beach. Day or season passes are required for all vehicles parking in the Lake Como Recreational Area.